KDE Community World Summit 2004 "aKademy"
21-29 August, 2004
Ludwigsburg (Stuttgart Region), Germany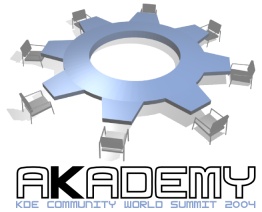 Announcing "aKademy":
Come to the 2004 KDE Community World Summit
(in Ludwigsburg/Germany, Region of Stuttgart, 21st to 29th of August)
The KDE Project is proud to announce its plans for the 2004 KDE World Summit, code-named aKademy. It will be held in Ludwigsburg/Germany. It is spanning 9 days with an exciting program of
Talks and presentations by outstanding KDE developers,
Tutorials and trainings by experienced instructors,
Joint development, bug-fixing and workshops for all KDE contributors,
Design and polishing work by all participating KDE enthusiasts
on all aspects concerning the leading Linux and Unix desktop environment. Conference language is English (some tutorials may be held in German).
KDE has now reached a very mature stage. Years of development have come to fruition. KDE provides a rock-solid architectural foundation for its next phase of evolution. One of the main themes will be to continue the ongoing effort to integrate non-KDE applications and programs into its framework. This will go a long way to provide a fully consistent user experience for Linux and Unix desktop workstations and help all Linux distributions to gain an even larger share on the market place.
Who is it for?
The event is of high interest for
all active KDE contributors: programmers, artists, documentation writers, translators, promotors and other supporters,
most KDE power users,
as well the general public interested in Linux and Unix desktop systems.
All of them will find many very interesting topics covered here. They are all invited to come, attend and participate in our discussions and work.
"aKademy" 2004 Program Overview
Financing the Event
KDE e.V. is soliciting donations from companies and individuals towards this conference. These donations will be used both for running the complete "2004 KDE Contributors and Users Conference" (code-named aKademy) and for bursaries for delegates from other continents and/or without income. Delegates with an accepted paper/presentation will be prioritized in the distribution of these bursaries.
The tutorial program announced here is geared to raise funds for the same purpose. The tutorials will be offering excellent quality content, delivered by world-class instructors on their respective fields, and we are asking for a competitive participation fee in exchange. We are aiming to get Linux power users and administrators as well as other IT professionals (from the Stuttgart Region as well as anywhere else in the world) into participating here, with their employers paying the tutorial fees.
If you think you could lead a half- or full-day tutorial yourself that attracts 10 to 12 paying participants for a KDE- or Linux-related topic, you should get in touch with tutorials2004@kde.org. Accepted instructors for one of the tutorials will receive full reimbursement of their travel costs.
Further Information
Location and Travel
DevConf Schedule
Marathon Schedule
UserConf Schedule
Registration
Subsidy
Community Wiki

Our Sponsors
About the organizing parties
The "2004 KDE Community World Summit", is jointly organized by
KDE e.V. is a non-profit organization of volunteering professionals and enthusiasts for free and open-source software, especially the "KDE Desktop for the Enterprise" (http://www.kde.org/areas/kde-ev/).

Wirtschaftsförderung Region Stuttgart (WRS) is the "Stuttgart Region Economic Development Corporation", a subsidiary of the administrative body of the Larger Stuttgart Region. WRS provides service to industry and municipalities in the field of economic development and is running in 2004 an all-year PR campaign to help the advance of Open Source Software deployment in the private and public entities in the Stuttgart region (http://opensource.region-stuttgart.de/).

Linux New Media AG is Europe's leading corporation to provide Linux content on "new" and "classic" media (http://www.linuxnewmedia.com/).
---
Please send your suggestions to the KDE Conference 2004 Team.